UNITED MOVEMENT 10th edition
---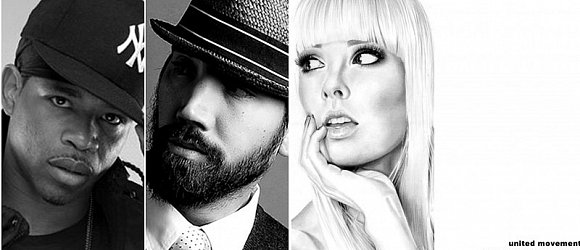 ---
UNITED MOVEMENT 10th edition
10th edition of dance workshops brings you the real bomb! To Slovakia will come the real dance and chreographic star...he worked with JLO, Janet Jackson, Pink and he´s exclusive choreographer of Justina Timberlake from the beginning of his career...MARTY KUDELKA!!!
Another teacher will be a hip hop dancer and choreographer SHO TYME. His dance bio includes names such as Gwen Stefani, Jay Z, Mary J Blige, P Diddy etc!.
Both of them, Marty Kudelka and Sho Tyme will teach a 60min dance workshop for beginers and general public!!! And the good news is, that both workshops for beginers and general public will be for FREE!!!
After big succes at UNITED MOVEM9NT, will be at UNIED MOVEMENT #10 will be workshops for children. BALET, with teacher Kika from Slovak National Theatre-SND and Break dance with Dexter from ŠKOLA BREAKU. These classes/workshops will be for FREE also! It´s perfect opportunity to come with friends, or chidren and taste the mood and dance classes with top teachers from Slovakia and world´s top choreographers/teachers from USA, MARTYM a SHO TYMOM!
Date: 19th  october 2014
Venue: Aircraft Sporthouse, Ivánska cesta 30/B, Bratislava
Schedule:
UNITED MOVEMENT 10th edition

17.10. Vienna (Holmes place, Handelskai 94-96)
1630-1800 SHO TYME master class
1815-1945 NIKA KLJUN master class

18.10. Budapest (Dance Factory, Becsi ut. 267)
1400-1530 NIKA KLJUN master class
1545-1715 SHO TYME master class
1730-1900 MARTY KUDELKA master class

19.10. Bratislava (Aircraft Sporthouse, Ivánska cesta 30/b
Studio nr.1
1200-1300 BALET verejnosť-beginners class due to technical problems cancelled!
začiatočníci/beginners class
1200-1300 SHO TYME beginners class
1300-1400 MARTY KUDELKA beginners class
1420-1520 ŠKOLA BREAKU break dance  beginners class
Studio nr.2
1400-1530 NIKA KLJUN master class
1545-1715 SHO TYME master class
1730-1900 MARTY KUDELKA master class
: